CPhI Worldwide 2019 was held successfully in Frankfurt, Germany from Nov. 5th-7th. SINOPEG's CEO Dr. Wengui Weng and sales manager Mr. Lingnan Chen attended this exhibition. Our booth Number is 41K60.
We SINOPEG was established in 2011, and specilized in PEG derivatives, PEG block-copolymer, side chain of diabetes medications etc.. We are not only maintain the advantage of old products, but also continue to work on the development of new products.
During the exhibition, many customers visited our booth. We had very deep discusstion with our old customers and partners regarding some issues and problems of ongoing projects, and reached agreements for the further programs. Besides, we also received many new potential customers from all over the world. They showed great interest in our products, and made preliminary cooperation intention with us.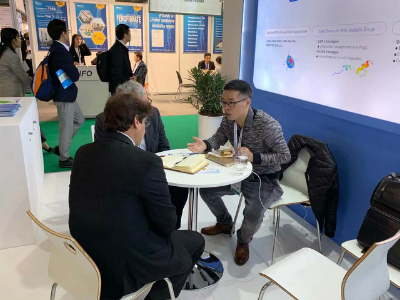 Thanks very much for the support and trust from all friends, customers and partners! We hope we can have close cooperation together, and reach win-win achievement in the future.